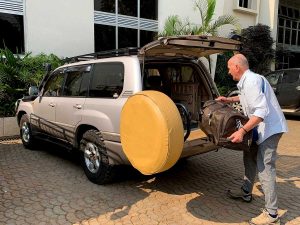 Airport Transfers is one of our car rental services in Uganda. This allows you to enjoy private transportation from Entebbe international airport to your booked hotel in Entebbe, Kampala City, or your preferred drop-off destination in Uganda. This saves you from the stress of searching for a rental car & a driver after that long flight.
Note: When choosing an airport transfer service in Uganda, it's important to consider factors such as safety, reliability, cost, and comfort. Therefore look no further than Cheap Car Rental Uganda for your best and most affordable airport transfers.
Besides Airport transfers, we also provide pickup services from your preferred place or hotel of residence in Uganda.
We thus advise you to consider booking your airport transfer before your arrival and this can be done by sending an email to info@cheapcarrentaluganda.com or either calling or sending a whatsApp message on +256 776 608264. Whether you are a family or solo or group traveller, we provide a wide fleet of well-serviced saloon cars, Safari minivans, and coaster buses as well as a team of professional driver guides ready to give you a safe and comfortable road trip to and from the Entebbe international airport.
Possibility of a Self Drive Option.
Self-drive car rental is a popular option for travelers who want to explore Uganda at their own pace. We also offer self-drive options, and the process typically involves booking a vehicle by providing a valid driver's license and passport, and making a security deposit.
It is crucial to have proper documentation and insurance coverage before embarking on a self-drive trip. It is also advisable to research and understand the traffic rules and regulations in Uganda to avoid any legal issues.
All in all, our self-drive car rental service can be an excellent way to explore the country's diverse landscapes, cultures, and wildlife.