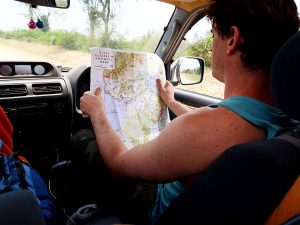 Self-drive in Uganda refers to hiring or renting a car and driving yourself instead of hiring a driver to drive you. With our flexible self-drive terms, you will explore Uganda at your leisure and pace.
At Cheap Car Rental Uganda, we understand how fascinating the thought of driving yourself to any chosen park or destination is, the control and freedom you get allow you to have a flexible itinerary giving you that personalized road trip experience you deserve.
Whether you want to visit a national park or a popular travel destination, drive around town, or attend a conference meeting, you will be in the driving seat and that's what makes the self-drive option more exciting.
We offer a wide range of well-serviced cars to all types of travellers including solo tourists, couples, families, businessmen, and small groups. If you plan to self-drive in Uganda at any time of the year, you will require a strong 4×4 if you are visiting the national parks or a well-serviced sedan or SUV if you are driving around the city & suburbs on business or leisure vacation.
Our vehicles available for self-drive include the Land Cruiser VX 80 series, Nissan Patrol, Toyota Hilux, Mercedes Benz, and Toyota Rav 4, among others. We have selected some of the most popular destinations that you can visit when in Uganda. You will find background information about these places plus how to get there and the accommodation available.
To regulate liability and insurance costs, we first look out for high-risk drivers before the beginning of the hiring process. We request clients' driving records. That said, ensure that you have a good driving record to secure a vehicle for self-drive in Uganda.
Do you want to hire a car for self-drive in Uganda? Are you looking for the best car rental agency in Uganda? Look no further, we are the best answer to these questions. We will get you a rental car that fits your budget & personal needs. Contact us today by sending in your inquiry to info@cheapcarrentaluganda.com or call or send a WhatsApp message on +256 776 608 264 to speak with the reservations personnel today.
Why you need to hire a driver in Uganda?
Hiring a driver is convenient more so to travellers who want to explore the country. A car with a driver guide has loads of benefits. You can snooze in the back, listen to music, forget about the trials and tribulations of potholes and spare tyres and you have someone who always knows the way and can tell you all about what you are seeing.