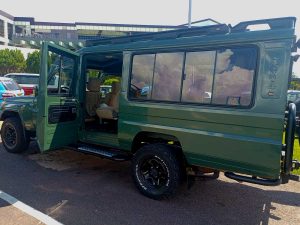 Discover unbeatable deals on Toyota Land Cruiser Hard Top Extended rentals in Uganda. Experience the ultimate safari with our budget-friendly car rental options. Explore Uganda's breathtaking landscapes with comfort and reliability. Book now for an unforgettable journey without breaking the bank!
4×4 Toyota Land Cruisers Hard Top Extended feature on the top list of our safari vehicles in Uganda and Rwanda. They are the best choice for wildlife safaris especially in Akagera National Park, Queen Elizabeth National Park, Kidepo Valley National Park, and Murchison Falls National Park among others. They come with features like air conditioners and a mini-fridge and you hire one at a pocket-friendly rate.
Seating Capacity: 9 Passengers
About Toyota Land Cruiser Hard Top Extended Car Rental in Uganda:
Capacity: The Toyota Land Cruiser Hard Top Extended is a robust 4×4 SUV renowned for its spaciousness. It typically seats up to 7 passengers comfortably, making it perfect for group travel, family trips, or larger parties exploring the scenic beauty of Uganda.
Why Choose a Toyota Land Cruiser Hard Top Extended:
Off-Road Prowess: The Toyota Land Cruiser Hard Top Extended is built to handle Uganda's diverse terrain, including rough dirt roads and challenging off-road paths. Its powerful engine, sturdy suspension, and four-wheel-drive capability ensure you can venture where others can't.
Reliability: Toyota's reputation for reliability is legendary, and the Land Cruiser series is no exception. You can trust this vehicle to perform consistently, providing peace of mind during your Ugandan adventure.
Safety: Safety is a priority, especially when exploring unfamiliar territories. This SUV is equipped with modern safety features such as airbags, stability control, and advanced braking systems to keep you and your passengers secure.
Spacious Interior: With its extended body, the Land Cruiser Hard Top offers ample interior space. You'll have plenty of legroom and storage space for luggage, camping gear, or safari equipment, ensuring a comfortable journey.
Ideal for Safaris: Uganda is famous for its wildlife and national parks. The Land Cruiser's elevated seating and large windows offer excellent visibility for wildlife viewing during your safari excursions.
Air Conditioning: Uganda's climate can vary, and the Land Cruiser comes equipped with efficient air conditioning to keep you cool in the heat or warm in the cooler regions.
Expert Support: When you rent this vehicle, you can typically expect excellent customer support from our team, including assistance with trip planning and maintenance services.
In summary, choosing a Toyota Land Cruiser Hard Top Extended for your Uganda adventure means selecting a dependable, spacious, and rugged vehicle capable of taking you to remote destinations safely. Enjoy the freedom to explore the beauty of Uganda with confidence in your reliable 4×4 SUV.