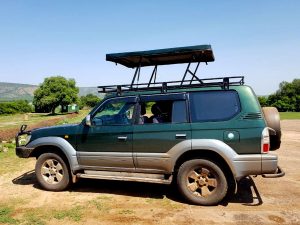 Explore the beauty of Uganda with our Toyota Land Cruiser TX with Popup Roof car rental. This rugged and spacious vehicle is perfect for your African adventure, with a capacity of up to 7 passengers. Choose it for comfortable safaris, off-road exploration, and a truly immersive wildlife experience. Book now for an unforgettable journey through Uganda's stunning landscapes.
About Toyota Land Cruiser TX with Popup Roof Car Rental in Uganda:
Capacity: The Toyota Land Cruiser TX with Popup Roof can accommodate up to 7 passengers, making it an excellent choice for small groups or families.
Why Choose a Toyota Land Cruiser TX with Popup Roof:
Safari-Ready: This vehicle is specifically designed for safari adventures in Uganda's national parks and wildlife reserves. The pop-up roof allows for unobstructed views of wildlife and perfect photo opportunities.
Off-Road Capability: The Land Cruiser TX is renowned for its off-road prowess. It can handle rugged terrain and rough roads, ensuring you can explore remote areas with confidence.
Comfort and Space: With ample interior space, comfortable seating, and air conditioning, this car ensures a pleasant journey, even on long drives through diverse landscapes.
Safety: Toyota is known for its safety features, and the Land Cruiser TX is no exception. It comes equipped with modern safety technologies to ensure a secure journey.
Reliability: Toyota vehicles are celebrated for their reliability, which is crucial for an adventurous trip in Uganda's diverse and sometimes challenging landscapes.
Local Expertise: When you choose our Toyota Land Cruiser TX with Popup Roof car rental, you also benefit from our local expertise. We can provide recommendations, itineraries, and assistance to make your Uganda journey seamless.
Embark on a thrilling Ugandan adventure with the Toyota Land Cruiser TX. Book your rental now and get ready to experience the wonders of this beautiful East African country like never before.